So I'm lying on my bed chewing on some grapes I just picked off my windowsill and listening to the fireworks at disneyland Paris. Pinch me.
However I officially feel like I have jet lag but least it's all over and I've now officially moved! Sunday was lovely as it was my last day housesitting in Esbly so we took the dogs on some super long walks, then as the family were back earlier than anticipated bro and I decided to go one last adventure... Into the centre of Paris!
We jumped on the train and 30 mins later came out from the metro into the bustle of an august night in the Latin Quarter, one of my most favourite parts if the city. We only had a couple of hours as had to be up early next morning for the drive back but we went for a stroll along the seine towards the louvre and back again and it was such a beautiful night with everyone sat along the banks of the river, couples, groups of friends, people alone with a book, all ages, picnicking and drinking wine..beautiful
The ile de la cité from Pont Des artes
The louvre
Remember this place?!
Looking down the Tuileries toward Place Concorde, the Champs Élysées and the Arc de Triomphe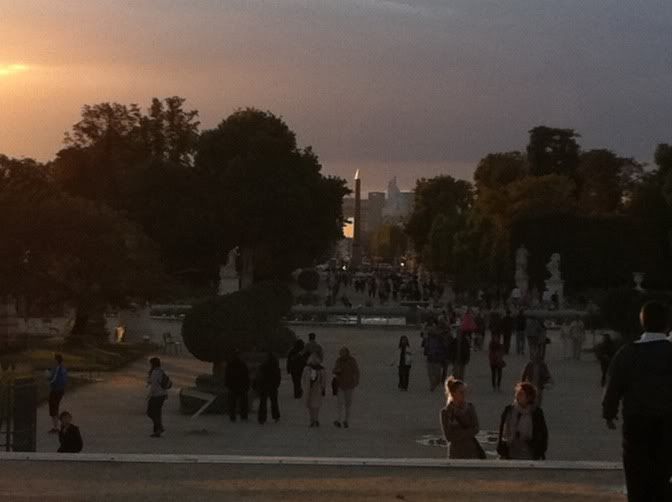 Ah I recognise this...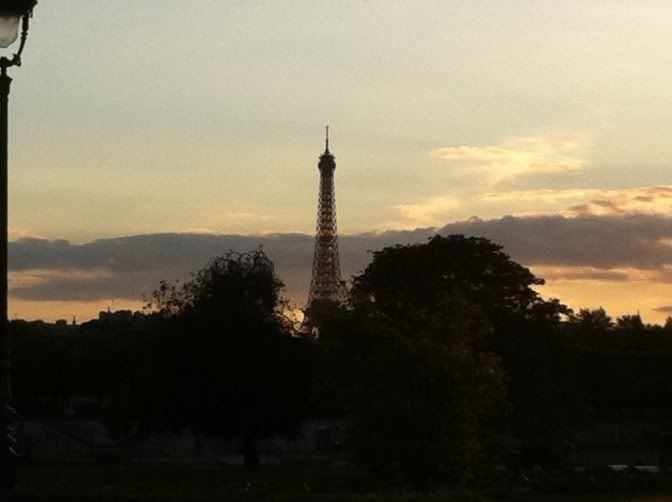 When we had finished soaking up the evening we stopped for a cheeky drink on rue de la huchette before heading back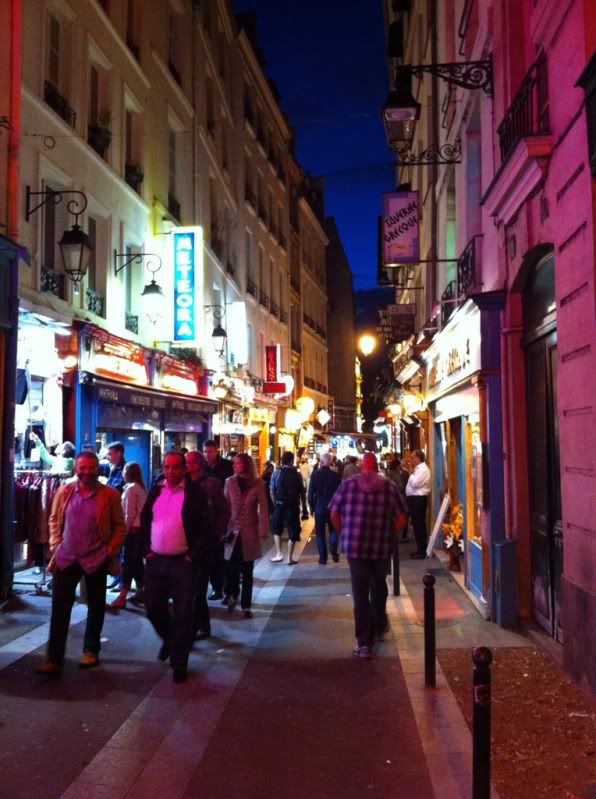 but not until I had gotten a glimpse of what is one of my favourite sites of the city and something I saw back in 2009 that made me realise one day I wanted to live here...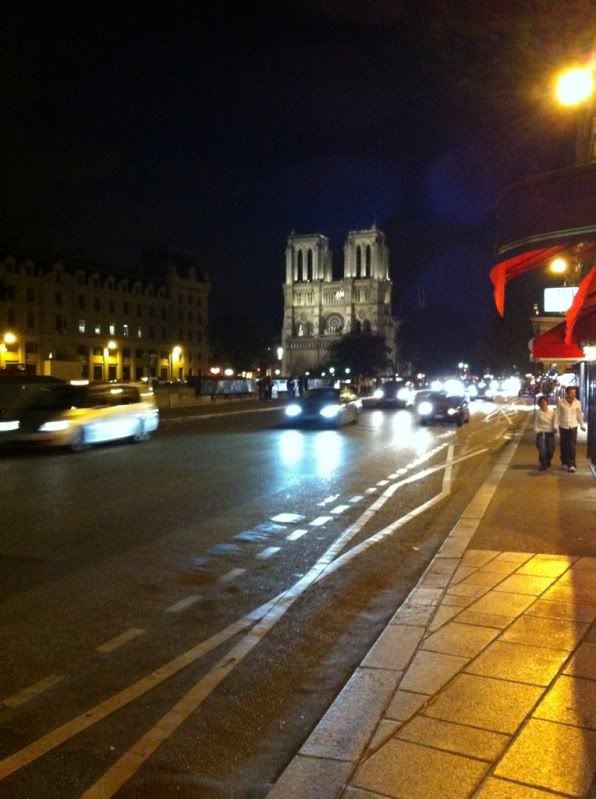 We were home by 11pm and in bed until 05:30am when my alarm went off as it was time to make tracks back to the UK. It was a good journey back as obviously I had no idea how to get from Paris to Calais but we managed it with no wrong turns whatsoever and with me only nearly falling asleep at the wheel once (poor bro) so we did have a coffee stop but all in all we made it to Calais in much faster time than anticipated and so made an earlier ferry! Got back to the UK, refuelled, handed the car over headed into London and appreciated the city one last time before I said my goodbyes to my brother and then got my overnight coach from Victoria back to Paris. My big brother has been amazing throughout this and i can never thank him enough for his support, I appreciate I'm a lucky little sister and a lucky daughter and a lucky friend to others.
For the return I got a sleeper coach although it wasn't much for sleeping as it was only a couple of hours to Dover then you were woken up to board the ferry, so I then curled up in a chair and slept for the entire ferry crossing (thank god I hate them and that was my third ferry crossing in as many days) I didn't even loiter to poignantly watch the White cliffs of Dover disappearing for the final time; all I wanted to do was sleep!!! I woke up in time to crawl back onto the coach as the ferry docked into calais and then was woken at 6:30am as the coach pulled into Paris. Although not CDG airport which is where the coach normally drops me off but Galleiani. I have NO idea where this is, it's 6am, I'm tired and I'm now in a random part of Paris. I couldn't not laugh as after the car park incident, the horrendous driving weather and the failing sat Nav, it seemed only fitting that I was challenged one last time on this move by being dropped somewhere else entirely. Anneka Rice who??!! challenge Karen indeed.
Actually it was pretty easy, all I had to do was get the metro to opera then RER to Disney so no problems there and I'll stop moaning (I sound French already) I arrived at Disney about 8am and eyed up the avenue of buses...one of them was mine but which?
In terrible french I asked a bus driver 'quelle numero' for l'autobus to Condé and she told me 'je ne sais pas' but thought it was the stop derriere (behind- and yes I actually worked that out as she replied to me entirely in French!!)
As it was it wasn't the stop behind but the bus driver at the stop behind could tell me it was 'soixante' i needed just as it arrived so I was on my way.
Didn't take long to get to my house and the driver even dropped me outside my front door!!! (this is what I like sometimes about living somewhere rural it's all very personal). Anne and Sasha greeted me and it wasn't long before I was being sent to the boulangerie with instructions in French for practise and this is what I came back with...
So that was breakfast that and a cup of tea (still trying to get used to the milk out here they love their UHT). The bread here is amazing and everywhere you look up until midday you will see people wandering round the streets carrying their fresh baguettes under their arms, in their pushchairs etc. Apparently the boulangerie is more important than a chemists in any populated area in France. It really is their staple stereo typical diet and it really is true about the taste, they don't use preservatives and crappy raising agents so it's got a gorgeous texture to it however if you don't generally eat it on the day you buy it the following day you will be able to do 1 of 2 things with it.
1. Use it as a weapon
2. Line your mattress for extra spring
Carbs are still carbs though and I am not of French origin and no way am I going to give my best mate Dawn the satisfaction of saying 'told you so' when I wobble back to the UK next, the sound of my thighs scraping together will not herald my arrival I promise you.
By 10am I was shattered and so fell into bed literally, only for an hour I said...
2pm I dragged myself out if it, it's sooooo comfy and I felt horrible almost jet lagged but I had to make myself get up. I also realised I had been unrealistic in the 1001 things I had planned for myself to do today and should just rest and play catch up tomorrow, it's one thing doing London to Paris to London to Paris in a weekend it's anoer doing that and expecting life to be normal when you finally do stop to breathe, you have to let yourself breathe, however I DID want to collect my bike from Zoes. She has very kindly lent me one of their unused bikes til further notice so I thought as I hadn't ridden one in about 10 years the sooner I got started on it the better. So I walked the 20 mins along the canal path through the woods to Esbly (well kind of staggered I was completely out of it) it's a beautiful walk, saw some lovely cats along the way, met some lovely dogs and got side tracked at a field with 2 donkeys and 2 goats in (who every time I see them are being fed handfuls of grass by these 2 little girls so whenever they see me they get extra hopeful that I'm someone new who won't be trying to feed them something they already have a field full of...)
Anyway finally got to zoes and got mown down on arrival by dobby and opium and ventured into the garden to find...
The bat bike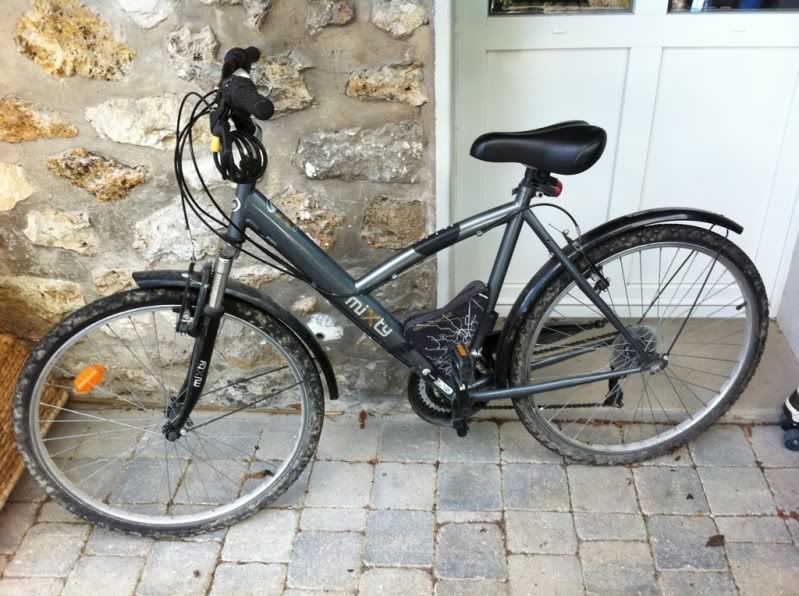 I have called it the bat bike (to the bat bike!!) til further notice to make using it sound more exciting in a 5 year old child at play kind of way. I never said I was a grown up.
the journey home was terrifying, there was the realisation of 'right hand side of the road' to contend with and oh god what do the gears do again?? And it's fair to say I wobbled rather than cycled and eyed up lots of risky looking pavements, bumps, loose stones; seriously if it comes with stabilisers I'm tempted to go back and get them.
I didn't do much else after I cycled back I got taken for a drive by Anne. Now let me just say Anne is a lovely, warm, genuine Irish lady but is as mad as a box of frogs. I'm pretty certain she is Luna Lovegoods mum!!! I have learned if you have all the time in the world she'll help you kill it. If not... Best duck and avoid, I did this when I left the house to get the bike I somehow snook out without her seeing me go! With the drive there was no avoiding it, I was told that is what I was doing and the car keys were fetched before I had chance to wander what had happened, however I did manage to haggle the rent down whilst out and about so it was a bonus! She is Irish but has lived in France for 20 years and so never quite knows what she is saying it's a real mix of Irish and French and I'm catching on quickly. After meeting the girl whose room I'm having when she leaves next week and a guy who lives on the top floor and looks like gerard depardieu I managed to sneak off to my room for a much needed good nights sleep. I exchanged conversations with some friends back in the UK via marvellous modern technology and then drifted off promising I'd get uP early and be productive tomorrow whilst listening to the enchanted fireworks at Disneyland. Is this for real?
So much for early my body clock is definitely not an hour ahead yet so woke up at a time I'm not confessing to because mum reads this and when I was showered up and ready to go I headed downstairs. Today bank, walk to school, walk on to Disney and job hunt (need something part time to bring in extra cash as not got a meeting about my job on the wild west show till 9th September when the artistic director is back off holiday) so that was MY plan. However that wasn't Annes plan...
When she had finished talking to me about hairstyles and downloading future styles I could have when my hair is longer etc etc I finally managed to get her moving. She wanted to take me to the bank and then to meaux (as she had an errand) and then val d'europe and then... I recognised I wasn't going to get a thing I needed done. So managed to get her to take me to the bank first which was a massive help and we have arranged a meeting with them for opening my account at 10am Saturday morning and she is going to be able to be the sort of 'guarantor' if you like as obviously I have no bills to a french address in my name. However we didn't get into the bank before she had upset all the drivers in Esbly on the main street by squeezing her car in behind a man who wanted to pull out so she herself had to pull out and the cars were already starting to line up behind her, then when she found another space in true Parisian style she worked out how close the car parked behind her was by reversing into it. There were no words! (she has offered to take me in to school for my first 2 days here which is just an amazing offer but think I'll tell her it starts 30 mins earlier than it actually does...)
In the bank I was pretty excited to be able to understand much of the exchange between Anne and the receptionist about setting up the meeting and what documents were needed but I know if I had been on my own trying to make sense of it the words would have fallen in one ear and out of the other so I just need to panic less and listen more. I was very aware though that as I walked through the town and stood chatting with Anne in the bank people were having a really really good look. But then I'm not speaking in French and I have bright blonde hair. I'm getting used to this. Could be worse I could be in a country where they try to exchange me for camels.
After the bank I managed to persuade Anne to leave me at the Disney village and So off I went job hunting. First few places weren't terribly encouraging but then Planet Hollywood had a slightly more positive stint and so managed to fill out an application form (yes it was all in french so I'm still pleased with myself for being able to complete this) and then wondered off feeling a little more despondent as it had been a bit 'we'll call you...' annoyingly haven't got any cvs out here with me! (you know what it's like you have to tailor them depending on what you are applying for and with Disney I'm applying for anything so if you hand over 3 or 4 different cvs detailing all your experience...it doesn't look good!)Apparently the main Disneyland casting office called Fantasia is over at Val D'Europe but as I had no cv this seemed pointless.
Before I left I Grabbed a coffee at Starbucks and was trying to suss out why my wifi code wouldn't work in it when the helpful assistant informed me that "ere you az to pay fir eet" oh right then "owever zees did not come from me but you can get eet free over at macdonalds...'
Bless that person yes you can!!! So Disney village; macdonalds for free wifi peeps!
I have to say I have found all the French in this area nothing but helpful friendly and delightful so far! Funny how lots of people who have never lived here kept telling me how miserable and rude and unhelpful they were... Speak as you find I say.
I was just about to leave the Disney village and get my bus home when I wandered over to the sports bar to ask if they had anything going (not sure why as they are part of Disney and Disney are strict you have to go through procedural applications for jobs) I wondered up to one of the hosts and asked if he spoke English and then asked about jobs, he said there was nothing right now I'd have to go to the casting offices. His English was really good so I said so and asked where he was from
"england!"
He'd arrived here 18 months ago, didn't speak a word of French when he did, had no job nothing, got this, got on with it, been here ever since! We chatted for about 10 mins before he told me to wait a second and vanished and came back with a massive looking guy who was the manager. He walked up to me and said
"alright how are ya?!" in the thickest east London accent ever.
So the upshoot is I should hopefully be starting work there in the next few days. We got on really well :)
Right anyway enough, I have just got back from the shop where I discovered alcohol is cheaper than half a dozen eggs, there are these amazing little chocolate things I wish I'd left on the shelf, you can only buy the weak yellow label tea out here whether you like it or not and you CAN get soya milk. Happy days. Plus I have a get together this evening with my fellow English speakers from the school ahead of starting actual work tomorrow! Starts at 6pm although apparently the French way is to be late, I'm not used to that but I'm sure I'll learn.
Nervous.com
Kxx