Well short but sweet update here as not sure how things will go this week so next time I get round to writing one of these I could well be in France. 4 days to go my calendar tells me.
It's been a productive Start to this week I must say which is partially because my mindset is turned to 'ANYTHING to keep BUSY' which in turn stops me freaking out about what I am about to do. I am starting to view it more as an adventure though now so it's all good let's keep it that way.
The weekend saw me attending a beautifully arranged suprise goodbye get together organised by one of my clients; a mixture of work colleagues, clients, friends and it was just fabulous, was told to go to Dolphin for drinks at 7pm and got there to find some of the most amazing people I know all in one room and everyone mixed and got on so well! It was a perfect night, very chilled cheese and wine affair and a great send off.
I am so restless this last week so I will thank everyone in advance for putting up with my mood swings before I leave, it's such a weird time it's only natural things are feeling a little crazy but I'm sure I'll look back on it and laugh once I am there (my friends might not!) I'd like to say I'm one of those people that never stresses but I'd be lying.
This clip pretty much sums me up this week:
I went out thursday as my best friend Dawny and her boyfriend Lee came to see me, what should have been a quiet couple turned into one of the kind of crazy nights usually reserved only for when my brother is here and by god did I suffer for it friday. I'm not good at these things. It wasn't helped by the fact Friday I had to shift my stuff from Pimlico back to the Wharf. Saying goodbye to Maggie was really hard, she has been my guardian angel, fairy godmother and mentor all rolled in to one. I said a brief goodbye (god & I will also miss that house it was incredible, the height of luxury!) and it was really hard to look out the back window of the cab and see her breaking her heart on the doorstep, i was shocked I didn't expect to see Maggie cry ever she is the toughest woman i know! It reminded me of the day I left Coventry to move to Devon (Saturday June 10th 2000...) looking out the back window and peering through all of mine and my husbands stuff to glimpse my mum stood on the steps trying to hold it together as she waved goodbye to us even though she was clearly falling apart. This never gets any easier.
Sunday was a perfect day following a perfect night and i enjoyed a proper 'British' Sunday (last one for the foreseeable future). I started off the day with a disgustingly long lie in then a breakfast of bacon buttes whilst watching Top Gear before trotting off to the cinema for a bit of Cowboys and Aliens (i suddenly find Daniel Craig more attractive when stuck on a horse) then as it was such a beautiful evening we sat in the sunshine at a restaurant on the Docks at West India Quay and had a really nice Sunday roast. I joked as i listened to the seagulls and the clinking of the moored boats that i could almost pretend I was back in Devon for 5 minutes were we not surrounded by the skyscrapers of Canary Wharf.
The roast was immense so we walked home along the river which was a great way to end the day.
Riverside walk home: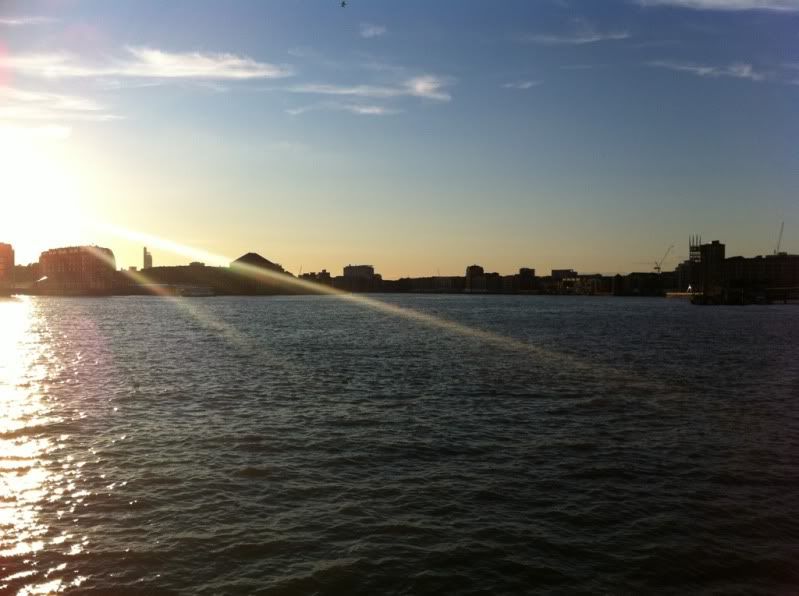 Have a few outdoor sessions booked with clients this week to keep me out of trouble and plan to do a lot of sightseeing. By 10am Monday I had also made my final grown up responsible calls, like called the tax office to happily tell them I am no longer self employed, called the ni office and am now declared as having moved abroad. Only 2 things in life are certain, death and taxes and no way do I want to leave the tax man out the loop!!! (death on the other hand I figure always knows what I'm doing so no need to try and attract his attention).
On the Wednesday the parents are coming out to see me, they asked if I wanted them to visit, I pointed out I wouldn't see them now til Christmas otherwise and next thing you know they have booked their tickets :)
Onwards! Xxx