Well I am writing this from my death bed.... Actually that's an exaggeration I'm writing this from bed as I am sick. Frustratingly so.
I'm really worried as I do not get paid if off sick and i am really wobbly today!!! Oh well suppose what I don't earn at school I'll make up with from my new part time job which I am due to start this weekend but the extra would have been useful! (I would LOVE to tell you more about the new job but folks I have had some genuine stalker issues lately so I am going to have to be a little more elusive right now I'm afraid). I know I know when detailing elements of your life and work to the public (I.e Facebook and blogs) it's a risk you take but I trust people not to go that crazy keen on me. Well they just did, let that be a lesson to me.
Just took a walk to the boulangerie which is a whole 30 seconds away and now need to lie down I have slept pretty solidly since Tuesday night too it's not good I don't even feel like moving!
You know when you can't quite believe you are ill because when you are lying down you feel okay but at the same time I know 1. I don't normally just lie down and not feel like moving and 2. If I get up I feel I am about to fall over. If off tomorrow I will get myself to a doctors which should be interesting.
J'espere le docteur parlez anglais parce-que je suis malade et c'est ca pour ma francais... N'est pas bon. Desolée!
That's my pigeon French at it's finest! I'm learning more words, not necesarily in the right order but enough that 3 frenchies and one Brit have told me in the last week alone my French is either good (my French comprehension actually surprises me somedays!)or really improving. So that's nice.
I need to be better by Saturday as I'm moving house and starting job 2 so no rest for the wicked here. Again hopefully in time I can detail more about the house because it's AMAZING and Mishy and I are the luckiest girls in the world, it even has a mini dance studio complete with mirrored wall (and piano) in le cave (I.e cellar/basement) large garden, it's over several floors, mahoosive kitchen, separate diner, 2 living rooms, several bedrooms and shower rooms/toilets and there's only the two of us living there! However that's about as much as I'm going to be able to share because 1. Don't know when I'll be back online as got to get the Internet set up there so I can share it (trust me it's awesome!) 2. Can't say where I am moving to although it is out of Condé (away from my beautiful Sasha sob sob) and 3. See paragraph on stalker issues as to why location is quiet. Honestly this person has freaked me out good and proper and I'm pretty sure they'll read this blog too so can't take the risks. I'm sure they have good intentions but honestly it's just been bordering on scary.
So I'm mostly packed and ready to go!
Anyway so where have I been lately? It's been about 2-3 weeks and no blog I have even had people emailing me to ask where my blog had gone! Well dear readers who clearly have nothing better to do (I'm kidding I've been told it's good bedtime reading...thanks, I think) life happened so I'm going to whip through it!
Damn I was just using my photos as a timeline to see what I last blogged about and I have discovered the Internet is off. I hate this because I swear to god the land lady does it to lure us out of our rooms when she wants company (the box is in the living room which is her domain "step into my parlour said the spider to the fly....") right wish me luck, no doubt I'll bump into the mysterious Gerard Depardieu lookalike from the top floor who as always will be dressed only in his dressing gown... Who I only ever see inspecting the Internet box, feeding Sasha or dunking his toast in his coffee (the french do that, they dunk EVERYTHING in their coffee, I tried it once and I assure you it is clearly an acquired taste and I tell them so when they whinge at me for putting milk in my tea)
Right sorted so on we go. Been very busy as just had half term so trying to get all ends tied up before we went back to school (except I haven't yet, I ask you, I had 12 days off to be sick and NOW I get ill). The end of term saw a day of Halloween celebrations in place of the usual lessons, i was on hand to ensure CP class the youngest were kept suitably under control with their new found witch and wizarding powers and then literally had a short while to throw something together for the school website on the afternoons events so rather than rehash old ground here is the article complete with pictures:
"Darkness falls across the land. The midnight hour is close at hand. Creatures crawl in search of blood to terrorise your neighbourhood..."
(Thriller)
Well, if Michael Jackson had visited EIMLV last Friday afternoon, that's what he would have said! (note: how appropriate it is to mention MJ in regards to visiting a primary school is entirely down to your belief system....)
told you the spiders out here were big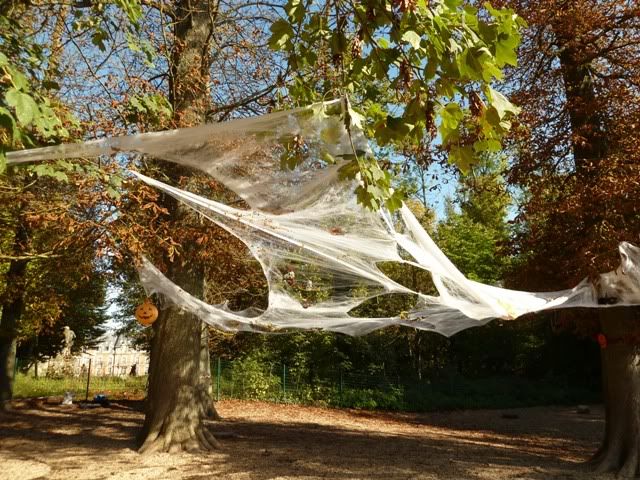 The last week of term, in addition to the usual lessons, saw EIMLV children helping to deck the halls with all things beastly, made by themselves. Any children who attended the after-school drama workshops got a little extra practice at being ghastly, trying out their witch and wizarding skills, and learning how to dance like zombies.
On the final day of term, the children were nowhere to be seen and EIMLV looked in desperate need of an exorcist!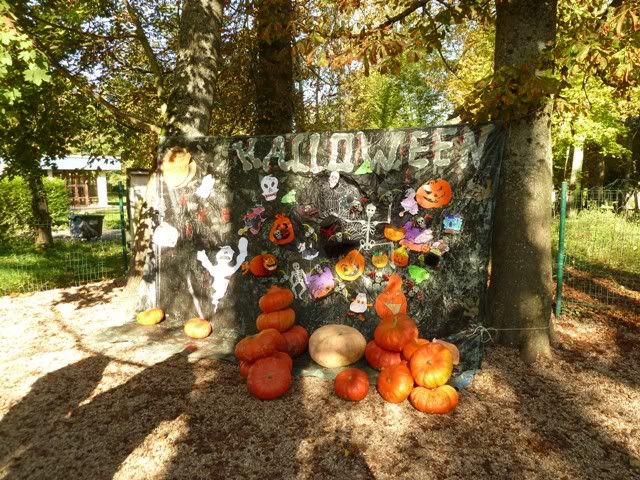 Pumpkins, vampires, ghosts, pirates and princesses were to be found in every classroom – and that was just the parents! For a little extra horrific help, face painters were on hand to add the finishing ghoulish touches to the little ones' normally angelic faces!
In the afternoon, the children made their own witches' brooms, complete with cobwebs and spiders for an extra-creepy effect. Once completed, they were allowed to take flight around the playground to see if their brooms worked.
Who needs A Nimbus 2000 and let's face it, Firebolts are soooo last season
There were goodies galore and a spooky story time (with some fabulous storytelling action from the parents), then all too soon it was time for everyone to return to their haunted houses, ready to begin their holidays.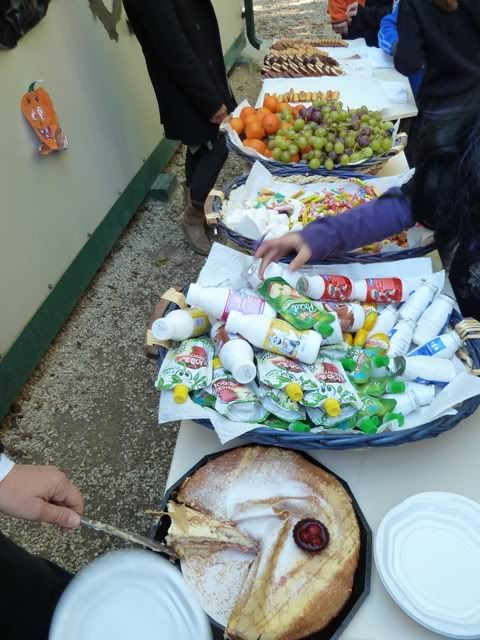 Honestly a massive mention must go to the mums of the school who worked so hard to bring all this together, the dedication to their children and the school as a whole is astounding they are quite literally the heartbeat of the place and you feel that.
It was an amazingly hot weekend and Sunday it was in to Paris for the RWC final, so got in very very early for that it was amazing to be in France for that game and crowded in a bar with the rest of the supporters, would have been better if they'd won though, shame it was so close!!!
After the match we wound our way through the backstreets on the butte of Montmartre taking in the sunday markets (sundays in Paris are all about the markets) and just breathing the place in before reaching the top where we sat on the steps of the sacre couer drinking coffee looking out across Paris and watching the world go by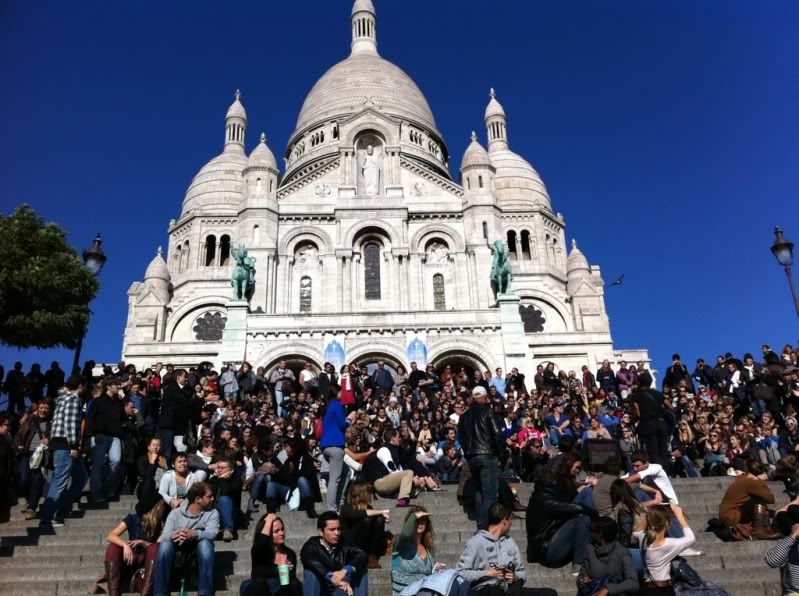 The afternoon was for chilling on the banks of the river seine, talking about everything, talking about nothing, sometimes not talking at all, reading, enjoying a glass of red, eating fresh crepes and people watching.
Yep today we are those people I always wanted to be chilling out in the sun. Hard life.
Hmmmm only in France could you bring your dog into a restaurant. She wouldn't thank me for this pic but I love how expressive the French are!!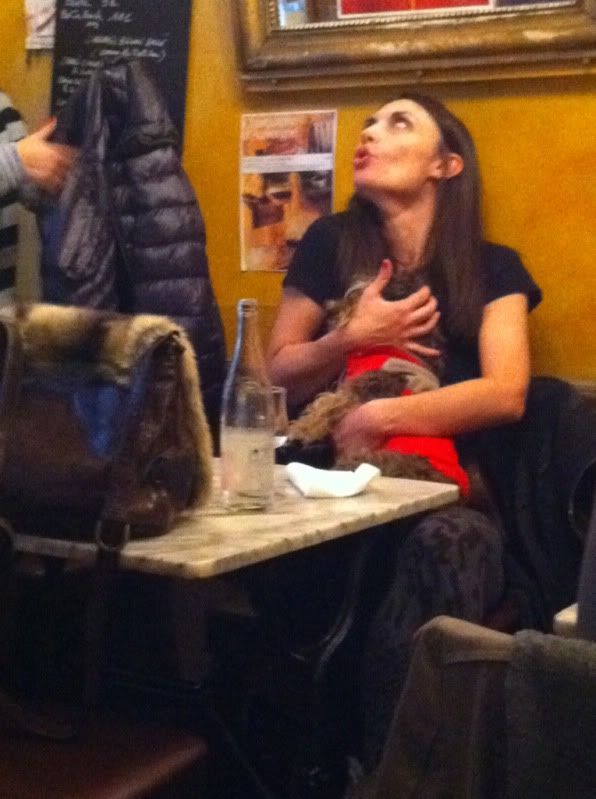 I was introduced him to the crazies to be found in any Metro carriage near you...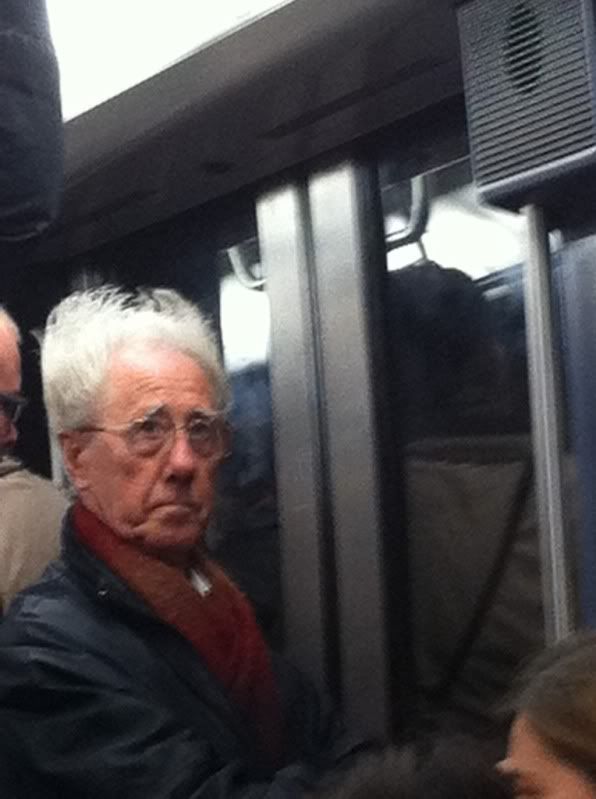 So what else has happened??
I got to fly back to the UK, had I kept on top of this blog I could go into way more detail about how it took me over 3 hours to get from my home to CDG airport (the horrors of RER B) the fact trains terminated at Gare du Nord and luckily my French was good enough to translate this (but I pity tourists who dont speak French would have been awful for them!) The horror that is the Gare du Nord, the French guy I had quite a good french conversation with at the station which lead to the questioning of my nationality by the tipsy old American couple who I lent my phone to because they were stuck at the station. They were stuck and panicking about missing their connecting shuttle (I lent her my phone and she was on it for ages if I said I wasn't panicking about my bill I'd be lying) the moment of hilarity was when they said to me;
"wow you speak beautiful English where did you learn?"
I am English
"ooooh okay what state you from?"
I'm not I'm from England
"oh right"
-moment they use the phone....
"did you say you were Australian?!"
Americans. They're not the brightest.
I also slept over night in the airport terminal as the flight left so early I'd have never made it on time, I did very well on my 4 plastic chairs under my coat, let it never be said I'm precious. Until 4am when a dude sat down on a table near me and listened to Chris de Burghs 'a spaceman came travelling' over and over... Without headphones may I add. I mean why wouldn't you??!!
Ah so many stories so little time...
Anyway I went back to the midlands for a few days for my birthday and had a lovely meal out with the family including 2 of my cousins who i havent seen since god knows when? Also had a bit of a blast from the past as during the meal received a phone call from my old uncle. He is separated from my auntie and despite being the father of my cousins as these things do happen I haven't seen or heard off him since I was a young girl and today he wanted to change that so my cousin organised the call whilst I was there. It was very strange to hear his voice after all that time and like he said to me, in seperation it's hard and communication gets lost but he never stopped thinking of me and always wondered how I was and lately was following my adventures via the Internet and was so pleased I was doing so well. I was really choked up and was pretty proud of myself as it wasn't the time or place to get emotional even though I felt it. He is right though about communication, sometimes to think of someone often is not enough as we aren't mind readers and who said out of sight was ever out of mind, I'm just as guilty, he kind of disappeared out of the family but I too could have contacted him anytime it's not like I just forgot who he was or assumed he stopped existing and I was so moved to know he still thought of me and made the effort to ensure he spoke to me and remembered it was my birthday. That's really something.
Also present on this day was my dear old nanny who I literally haven't seen for a good few years either! Bless her she is no longer quite all there so mostly thought we were out for her birthday and kept saying she had the most wonderful day ever and thanked us all for coming. Couldn't have said it better myself so was inclined to agree.
It's always nice to catch up and I think my mum and my auntie are being extremely brave and doing an amazing job of looking after her. I know it can't be easy seeing someone you love this way or having the mother daughter role reversed. Have told my mum I'm having her gassed at the first sign of senility ;) although it came close when we pulled up in the car park to the nursing home and glancing round my mum said:
"gosh I've never seen it this busy on a Saturday before"
That's because it's Friday mum.
It was a day of nostalgia as I got to sort out some of my things which are stored at my Nans flat as I slowly move my entire life out to France, so there was lovely things like my Christmas decorations which I'll be very excited to have with me this year after an unsettled couple of years (let's me know I'm ever close to having my life more settled again) and then there were boxes of ornaments and of course I got caught out by finding an old wedding photo in one of the boxes. Can't explain how it feels when you come across these things just a deep sadness, not for what you lost but I guess for what once was. I married so young it really represents my youth and a time when anything was possible. Anything still is possible but your time is a little more knowingly limited somewhat at 32 than it was at 22, that's a whole decade that passed pretty bloody fast!
Being back in the UK was a little strange, i only said Bonjour to people 3 times and 'pardon' instead of 'excuse me' twice and then told dad to kick me if he heard me do it again.
Off the musings asides seeing my blood family I also went home to see the other family; my cat Juice who is now deaf as a post on account of the fact he is ancient (I swear I didn't keep testing this theory by clapping my hands above his head and marvelling at the fact he doesn't hear it; why somcruel? Well this cat once upon a time would have skinned you alive for such an action, he used to be E-vil capital E included! So I was merely behaving as a mouse would upon such a discovery)
Too beautiful for words, my dear old puss,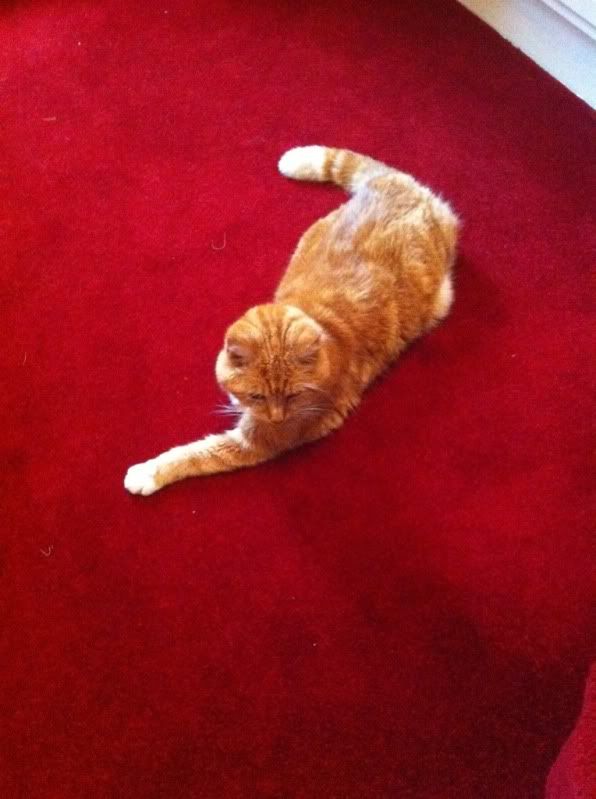 And also to get spoiled by such things as this: my mum makes the most amazing cakes:
I was woken daily with bacon butties and treated to a Sunday roast. It's the little things you miss!
As I lay in bed reading the one morning I listened to my dad who was walking down the hallway doing yoda impressions whilst getting himself ready to head to the theatre for the last night of the musical he was appearing in (playing an old grandpa zombie of all things) and also to the sounds of my mum who was getting ready to head off to spend time murdering people (she organises murder mystery events)
And people wonder why I turned out the way I did...
Asides the family madness I caught up with old friends and just generally relaxed before heading back to Paris for birthday celebrations mark 2... Halloween!!!
Of course Halloween should be spent here...
Now as I am lucky enough to finally own one of these....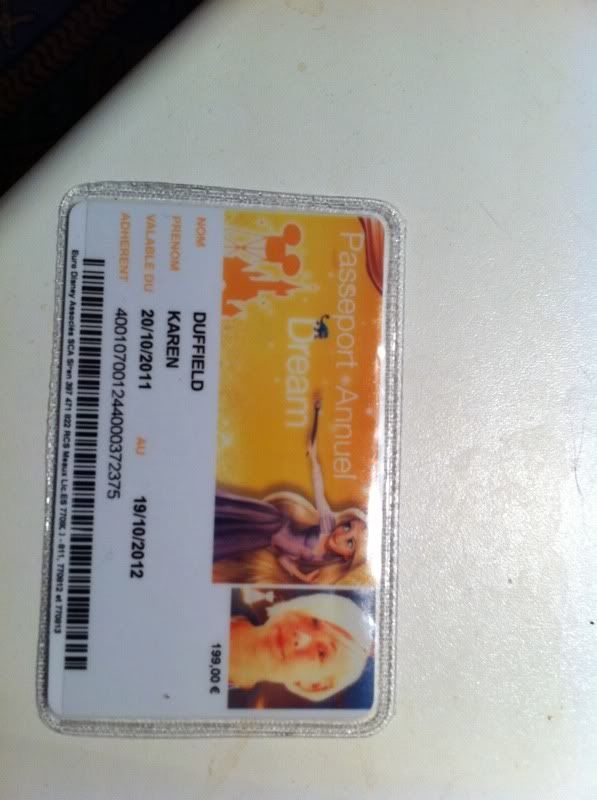 I can go into the park whenever I damned well feel like it, even after work for a quick blast on Space mountain!!! oh one more time with me: I love my life!!!
Yes sir a day of silliness at Disney was on the cards with mishy and Chris who was half done up like a devil with the horns, mishy had the tail and together they made a complete devil: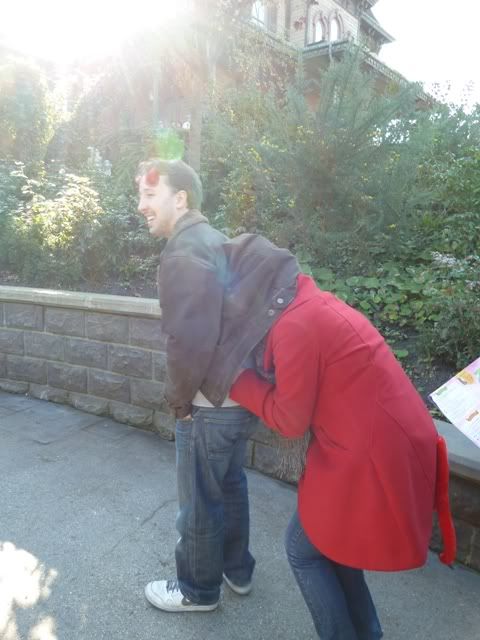 Naturally order of the day at Halloween for rides was Phantom Manor!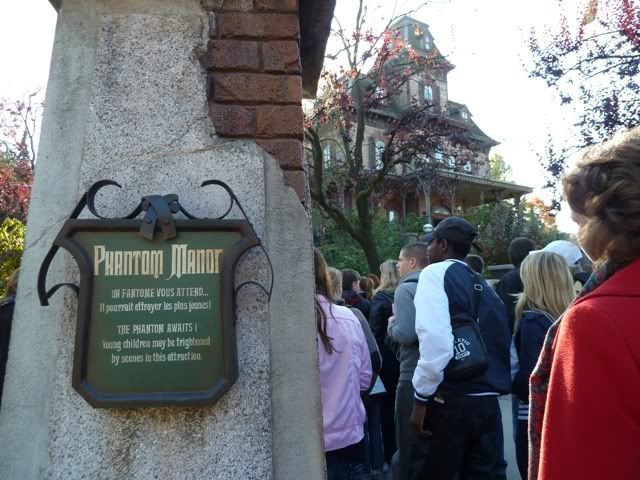 And of course we mingled with the stars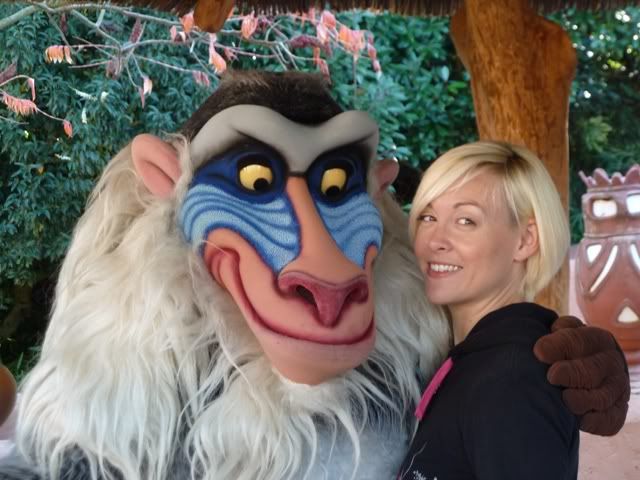 God only knows what rafiki made of this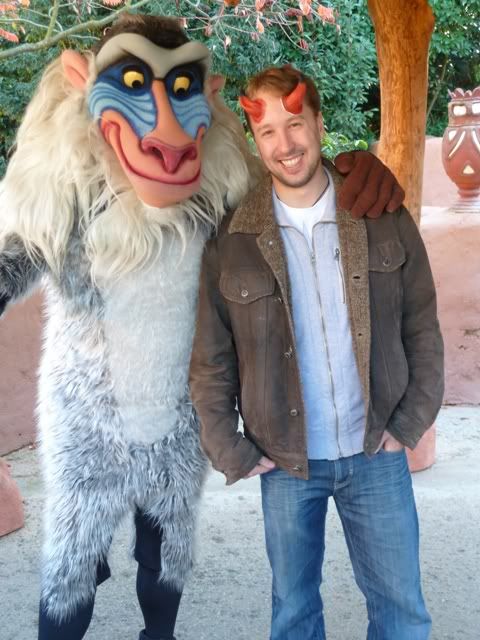 Yes that's right we are super responsible grown ups who are in charge of YOUR children...
Initial plans were to stay in the park ALL day right through to the Halloween party which goes on til 1am but in the end we purchased tickets to an organised do in Montmartre instead which was a wise choice as Disney was absolutely rammed! So late afternoon we headed back to our respective homes to get ourselves suitably ready for Halloween Parisian style so this was me from Witch to tinker bell gone bad
And I headed into Paris.
Parisians don't do Halloween it seems, apparently they are waaaaaaay too uptight to be dressing up so whereas last year in London there were ghosts and ghouls galore...until I met the other guys at jaures on line 2... I was the only one of my kind on the metro and didn't I know it! People laughed and waved, cameras came iut, some stared, little girls marvelled, some wanted to play with my wings, guys wanted their photos taken with me... By the time mishy and Chris arrived I was feeling like I'd either have my own tv show soon or be locked up. At least now I wasn't the only lunatic escaped from the asylum!
It was a good night had a few drinks, laughed too much and hung out with fellow creatures of the night all from various parts of the world. Can't think of a better way to spend my birthday really I swear they get better every year!
Apple....?! Mishy won a prize for her rather awesome old haggyness...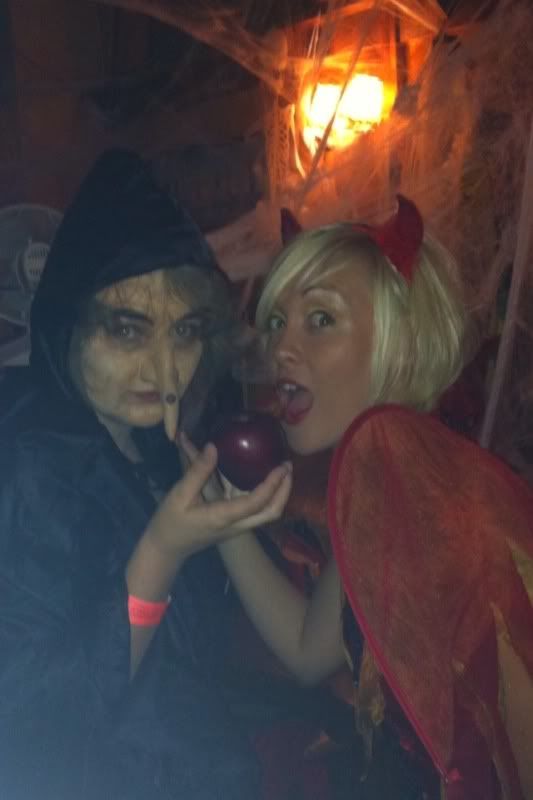 Meeting Hugh Heffner outside a sex shop in Montmartre like you do
Just a typical night out with friends
So that pretty much brings me bang up to date! Hopefully I won't leave it so long next time and hope you've all been well and busy yourselves.
Much love!
Karen Duffy the Disney bear x