Ah Monday Monday came around again far too fast but it's been a pretty crazy weekend to be fair that just whipped by! Ah time flies...
Well with just under two weeks to half term my thoughts are turning towards that and what I'm going to be doing, I have 12 days off... Was hoping to be working, preferably rehearsing for the wild west show over half term but as Disney is flat out busy with Halloween that week it's not likely, so currently trying to sort out 10 FULL days somewhere so I can spend all day living breathing and eating Annie Oakley and have the show hammered into me so then it's done and I'm ready to go whenever needed! We shall have to see...
Speaking of the wild west show I went along to it on Friday night, courtesy of the chief (my friend Shawn). A good friend of mine was visiting me for the weekend from Devon and so I decided we could hit up a couple of the bars in the Disney village Friday night and told Shawn as I must owe him a couple of beers by now for being one of the most awesome people I have ever had the privilege to meet, if he fancied it then to come join us post show. So he said how about coming to the show?
Seemed as awesome an idea as any so many thanks to Shawn for what was one of the most fun nights I have had in a looong time! (I said ONE of the most fun nights, so any one who has been out with me lately who is reading this and currently pouting at me for seemingly dissing their presence and entertainment value ... Don't it's a figure of speech!!!)
Ayway let's back track slightly! My friend was arriving into CDG on Friday afternoon so I arranged to meet him minus red carnation under the 'Disney Village' sign at Marne la Vallée. It's big enough you can't miss it. I then warned him he couldn't miss me because as always I was dressed like a Nike sponsored ninja; although turns out you could miss me as it was easy enough to use my ninja skills to sneak up on him.
We hopped on the bus and headed back to my house in Conde so he could drop his stuff off, plus I had just done 4 hours of PE and an hour of dance so wasn't totally fresh enough to go straight out!
Although first we had to battle the landlady... Now her hospitality is lovely but when you are in a hurry getting away from her is almost impossible and she managed to make us miss the first bus so we were a captive audience a little longer.
Now the previous night when I had been doing some washing she took it on herself to ask me if I was washing my sheets for his impending arrival as she could give me fresh ones if I wanted. I told her it wouldn't be necessary, I wasn't washing sheets and he was staying in michelle's room whilst she was in central Paris this weekend.
This was met with her clucking and saying 'of course it's none of my business...' I looked at her and told her point blankly friend meant friend and the spare room was where he was staying. She LOVES gossip does this one.
As she went on saying she "didn't mean to pry of course it's none of my business what you get up to and who with..." I casually folded my washing and switched off my hearing. Clearly this was prying and clearly this was making it her business. So when I introduced him to her I really shouldn't have been surprised when she rehashed the conversation from the night before and told him she didn't mind where he slept...
All I can say is it's a bloody good job he's a good friend else this would have been mega awkward! (i also heard her creaking along the landing stopping first at my door, then his, in the small hours of the morning. Bless her she'd have been most disappointed)
Note to self: should you ever start dating whilst still living here, don't bring them back... I thought it was your mum and dad that were supposed to do this to you not your landlady!!!
Anyway we finally got away and made the next bus and the night began! Trip to Billy bobs for an aperitif as in Disney you can get glowing cocktails you know:
Then met Shawn in the foyer for the show at 9pm for ticket collection then onwards into the wild west!
So we are ici...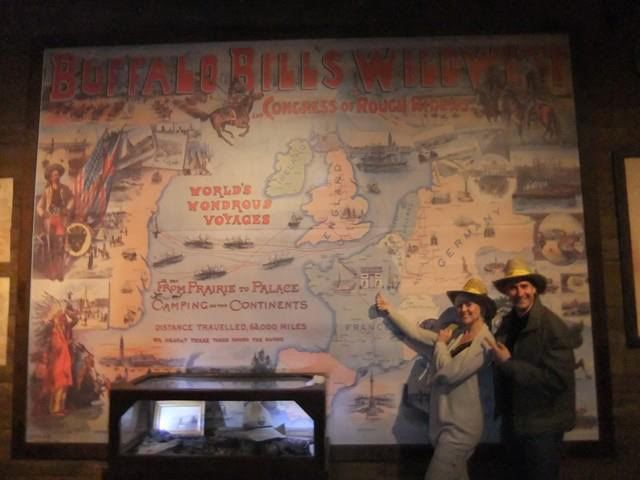 The wild wild west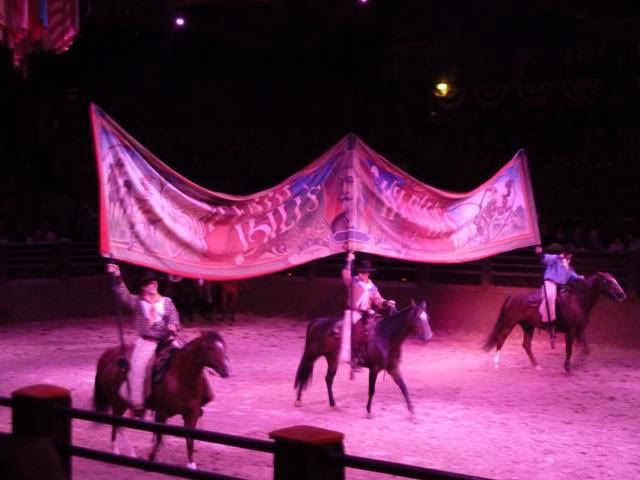 Do you reckon I could knock her off her horse from here?!
Funnily enough on this night Annie Oakley rode the same horse I did for the audition and ...yep it's still being a sod and absolutely refused point blank to do his lying down trick! I felt for her.
Chief Shawn in action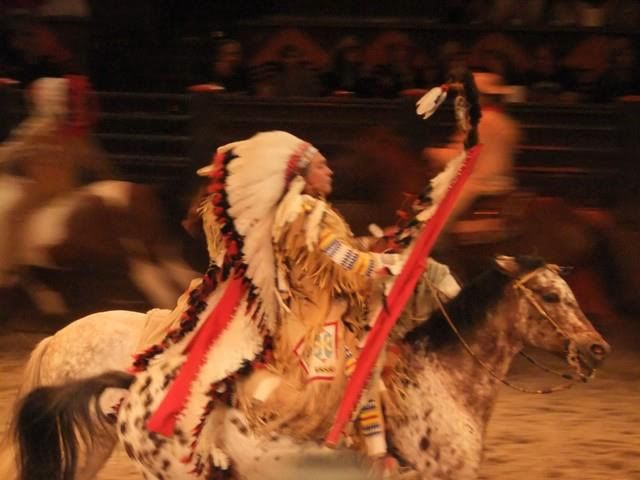 Now little did I know that this evening for the show he had decided I could come down and be one of the volunteers for riding in the stage coach when it gets nabbed. So before I knew it when they asked for volunteers he was heading up towards me and telling me to get on stage... I was somewhere between you have to be kidding me aaaaand oh my god that's awesome I wish my parents were here!
Blurry screen shots as only got video of this otherwise... Being brought down giggling my head off: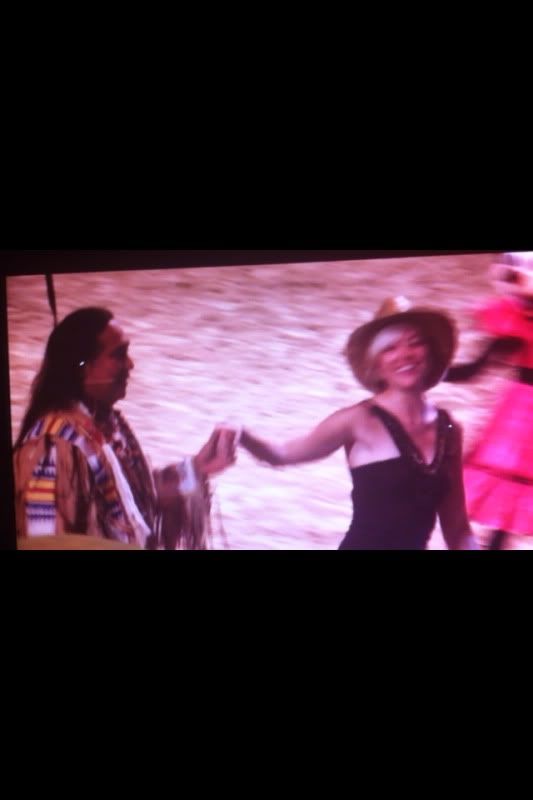 Yep still giggling my head off and being escorted backstage by the chief and chip n dale (tic et tac)
I was lead backstage (ah hello not been back here for a while) but I remembered it well, climbed into the stagecoach, buckled up and then off we went onto the darkened stage ready to be ambushed by thieving cowboys!
I was the first passenger to be hauled out by one Christian Starr who is a damned fine looking bad cowboy it has to be said and I found it pretty hard to feel too bad when he opened the door of the stagecoach, looked at me and said "well hello beautiful" before hauling me out the coach onto the dark stage and yelling "give us a kiss" whilst pretending to make a move on me. Please note I say pretending. disappointed.com ;)
Now would you complain? (sorry though ladies he's taken)
The other 3 hostages were also hauled off and we were tied up before Buffalo Bill arrives with the cavalry to save the day.
I really didn't think being molested by a hot cowboy and then tied up by him was too much of an ordeal, I have decided I'm on the bad guys side.
Waiting to be rescued... Actually I'm more eyeballing the hot cowboy, I confess.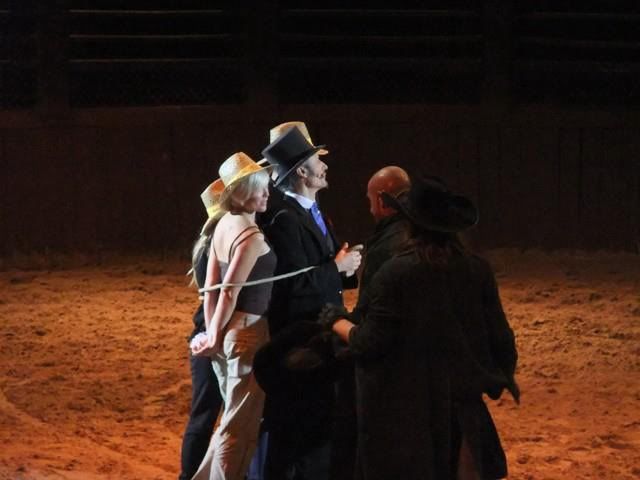 The cavalry are here: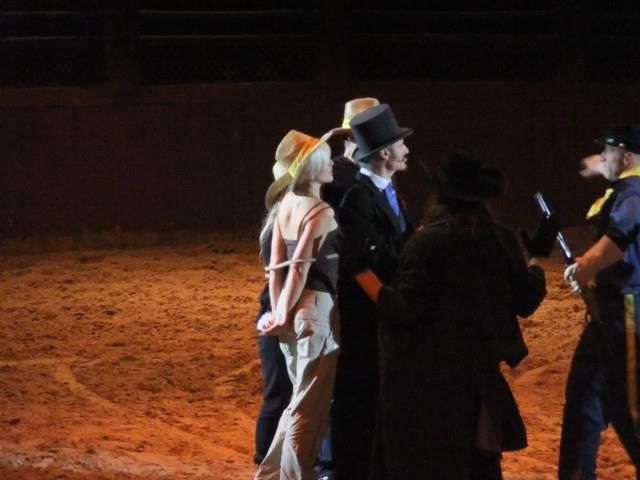 After the excitement it was back to your seats for the finale, extra loud cheers for the chief of course and I couldn't help but sit and wonder how long before it gets to be me there:
Shawn if you're reading this, next time I'm on stage with you it'll be in that pic above just so you know!!! As Walt Disney himself said its always fun to do the impossible. My dad is super excited about all this because he grew up reading all about the wild west show, he says himself he never dreamed one day he'd have a daughter associated with it, even both my grandfathers were crazy about it... I rode a lap of that arena for them at my audition I fully plan on doing it again some day very soon. They dreamt it, for them I'm doing it x
Anyway post show merriment continued into the small hours as we hit the Disney village. We partied the night away with Shawn and his brother Lucas and a host of other cowboys, Indians and Disney staff even joining in with the line dancing for a spell! I love that I get to laugh that much, I love that Disneyland is my local, my life is surreal.
So anyway post Friday night we eventually woke up Saturday. I was awake quite early so thought I'd leave Chris a while then I set off down the hallway and went to go hammer on his door only to be able to hear him snoring from the hallway so aborted that idea :)
When he finally woke up I exchanged some quick rendez vous messages with my other mate Chris from work, told him we would meet him at Montmartre within the next couple of hours and set off to join him. But not before we dodged my landlady again... This time she had made us gratin, i swear she had been waiting for us to come downstairs all morning and was insisting we sat down to eat. Despite trying to tell her we had only come downstairs dressed in coats and complete with shoes on looking like we were Ready to leave the house.. Because we were!!! It was futile. 20 minutes later we managed to edge our way out the front door and run for our lives complete with slice of said gratin...
Then an hour later we were pulling into Anvers and heading up the steps to the Sacre Coeur. Stopping off for a naughty nutella crepe en route
Um guilty as charged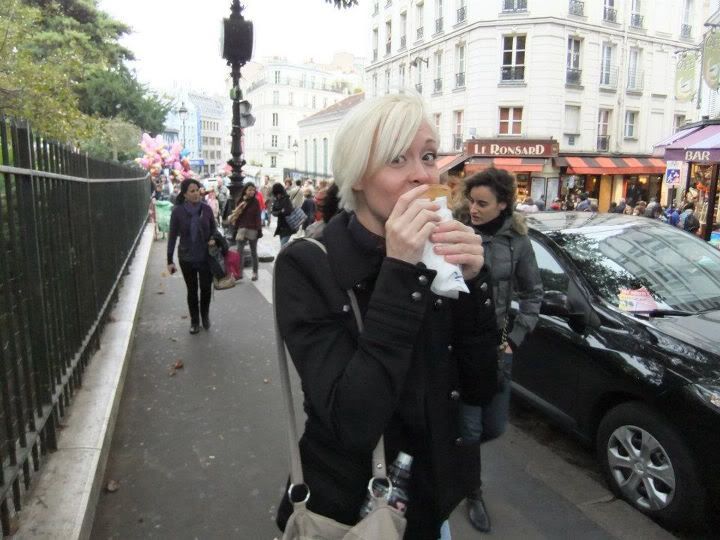 Dropped Christian a quick text to tell him we had arrived, popped into the sacre coeur so Chris could say a prayer for his mum like a good catholic son and then off we went into the crowds.
Street theatre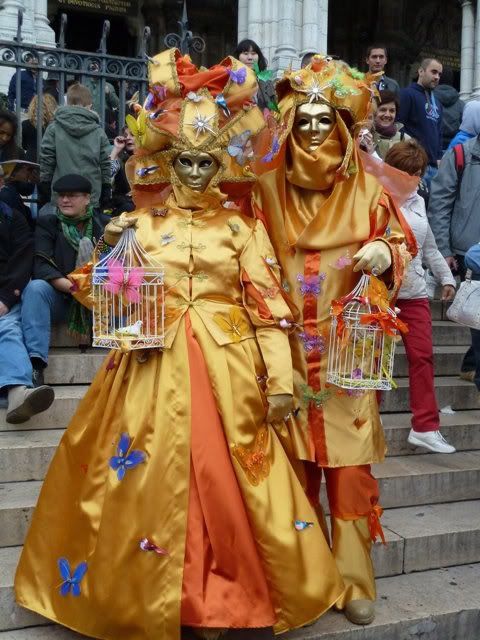 A man doing salsa in Tap shoes with a goldfish bowl on his head. All 3 fish seemed happy enough though!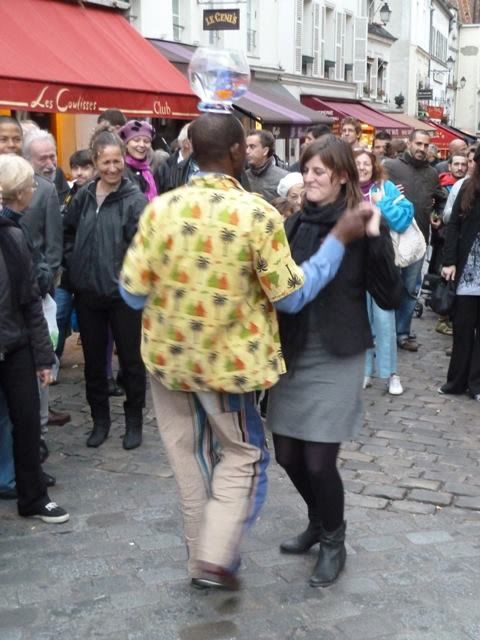 I had said see you on the steps of the sacre couer and so there we were met by Mishy, her boyfriend Chris and um Chris from work. So hi guys this is Chris, Chris meet Chris and Chris. Introductions out the way Mishys Chris (it could get confusing, Michelle and I were taking it in turns to randomly yell "Chris" to see who looked up first purely for our own amusement) anyway CHRIS (S; there surnames at least all had different beginning letters) produced a bottle of red and 6 cups and our partaking in the Montmartre harvest festival commenced!
Pour toi...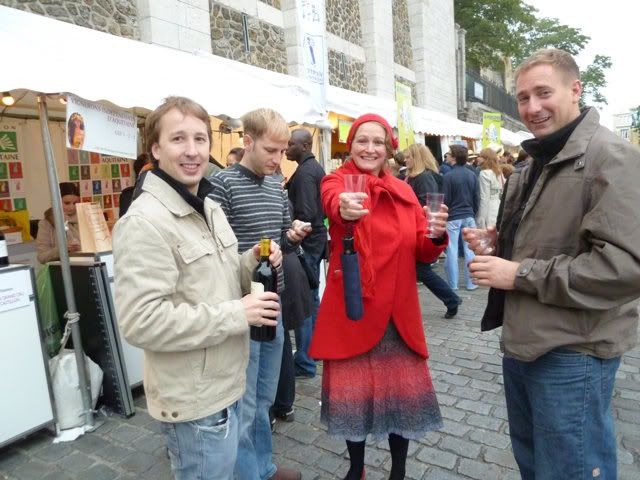 Okay first pics of me and the team, I love these guys.
Me and michy under the sacre coeur (which incidentally is made of a stone that cleans itself when it rains...I'm great at pub quizzes)
The English department!
Can anyone think of a better way to spend a Saturday afternoon? I sure as hell can't. However given that the previous week the weather had been almost 30 degrees someone has definitely turned the weather down here now and it was freezing, so we found the vin chaud setup in the fabulous courtyard of the St. Pierre de Montmartre which dating back to 1133 is the oldest church in the area despite it's relatively modern facade. Again pub quizzes...I'm in!
Rather fabulous wine heating machine. Half expected to see Belles dad from Beauty and the Beast pop out from underneath...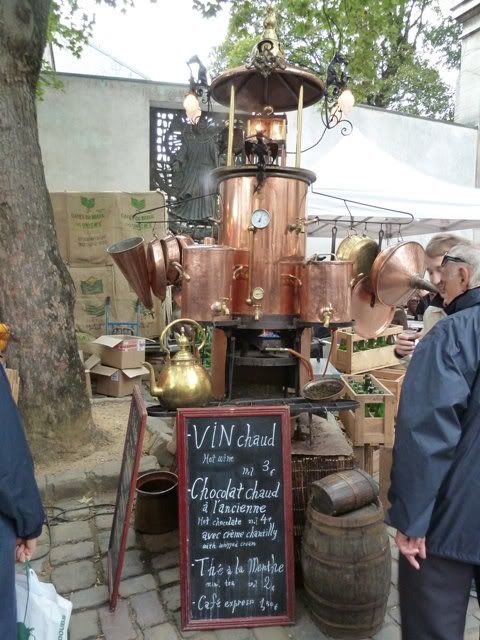 View from the courtyard
The harvest festival in full swing
Obviously all good days must come to an end and we eventually said goodbye and headed off to Montmartre so Chris could do the touristy thing and check out the moulin rouge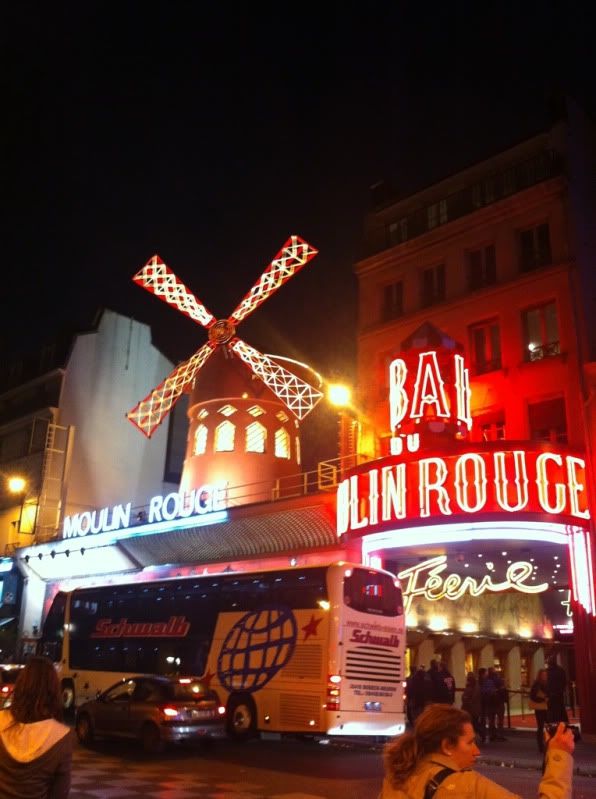 Then we scooched into the Latin quarter for dinner (headed to rue St Severin at St Michel for le Bistrot 30 which is a fabulous and ridiculously cheap little place I discovered years ago) then we headed home for a relatively early night to make the most of the daylight Sunday as Chris was heading home Sunday evening!
Sunday we managed to evade capture as we left in the morning and shot into Paris early starting at Notre Dame.
Sunday mass at Notre dame
This is always a good place to start as it is really easy from here to follow the seine from the ile de cité to the louvre (passing the padlock clad Ponte des Arts and pointing out to him Ponte Marie) I remember Ponte Marie well for it's bitter irony. It's not particularly a special looking bridge and yet it's reputed to be the most romantic in Paris. If you kiss someone as you pass underneath they'll be yours forever, make a wish it'll come true blah blah blah... Lies. I'm now divorced ;)
Anyway as we passed the louvre the last remaining stragglers of the Paris 20k which had been held that morning were struggling past and there was a brass band playing to cheer them along.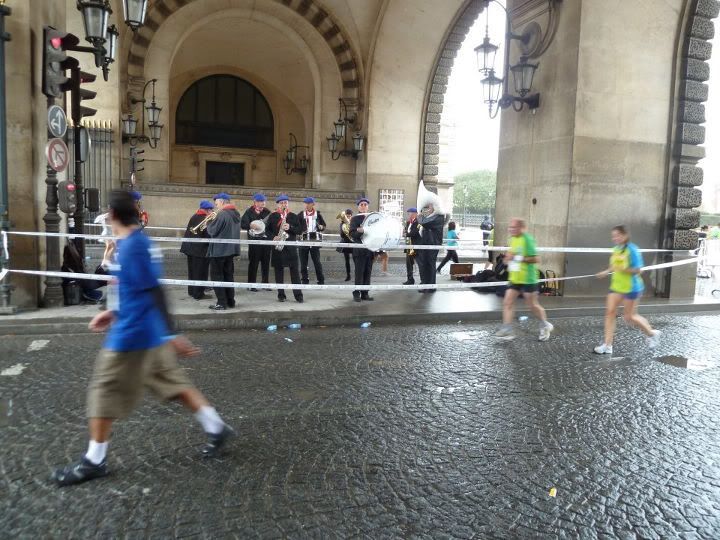 Now this is the second time in the last fortnight that I heard it... jingle bells!!! Called something else in France and with different lyrics I'm sure it may well be but in England it's a christmas tune and I have been hearing it since September now. Its not right!!!
We left the vicinity of the Louvre, wandered through the Tuileries to Place de Concorde and then up the Champs Élysées. It was a very grey drizzly day but the colours of autumn are so beautiful right now the colour of the sky matters not.
As is customary we wondered in and around a few shops before reaching our final destination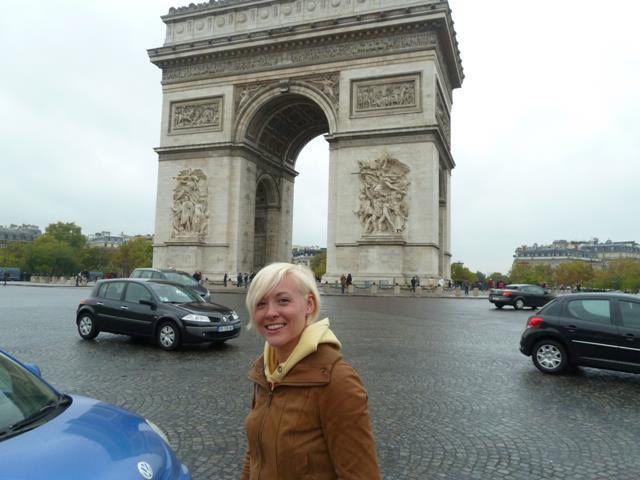 And spending time having a good giggle watching the priorité a droit rule in full action at the place de l'etoile! No crashes that day. I'm mean really.
From here it's easy to just hop on the metro and take the only line in Paris that goes over the river for a lovely view down the seine and alight at Bir Hakim for the Tour de Eiffel. A must!
There she is.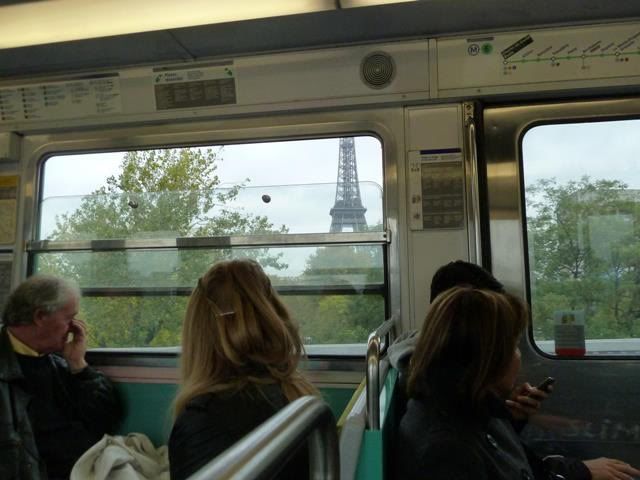 Such a beautiful site I love the Eiffel tower
After taking many pictures all of which I have probably taken in the past and am just rehashing but with a different date on the pic (and if I'm honest a different bloke) we jumped on the metro back to St Michel for a last drink before it was time for him to head back to CDG and St Michel was the central stop for us both to go our separate ways.
After we'd said 'a bientôt' I headed off back to the gare de l'est to catch my train to Esbly. Smiling as I went. I used to find it sad when friends came to visit then left when I lived elsewhere but I'm so happy here and having such a great time I just feel deep down that if my mates have to say goodbye to me and leave me anywhere in the world, then of all the places I could be this is the one deep down they know I'm more than happy to be left to it in.
I went home zapping my navigo as I went through the barriers and smiling massively to myself. After all guys...
I've made it.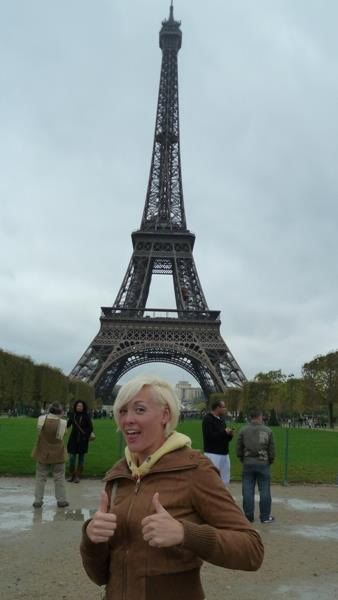 Xxx